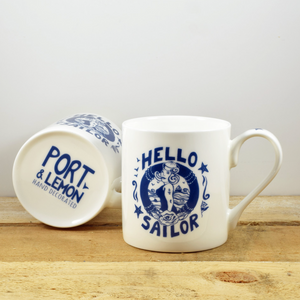 Features Port & Lemon's cheeky Hello Sailor design in blue on a fine bone china mug.
Lovely clean, fresh ccontemporary design which gives a nod to vintage tattoo art.
There is also a nice little nautical star detail on the top of the handle.
Great gift for sailors and lovers of vintage imagery.
The design has been screen printed and applied by hand in Port & Lemon's studio before being fired at a high temperature in a kiln for durability
Dishwasher safe.