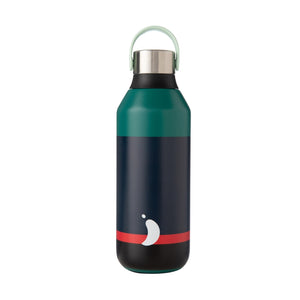 The block colours of Jean Spencer's 
[no title]
, 1997 painting encase this Chilly's + Tate reusable water bottle. Holding 500ml of liquid, it's one of Chilly's Series 2 leak-proof bottles, with a soft-touch, anti-microbial drinking collar, non-slip rubber base, and a matching blue silicone carry loop on the lid.
The green, navy, black and red water bottle keeps your drinks cold for 24 hours, or hot for 12 hours. It's part of our range created with reusable bottle specialists Chilly's, which combines details from Tate collection artworks with Chilly's practical, eco-conscious designs.
The bottle's double-walled vacuum design means that whilst the contents will keep either cold or hot, the outside will remain at room temperature.
For best results, clean the bottle after use with hot soapy water, but don't leave to soak. For a very thorough clean, we'd recommend bicarbonate soda with water. When not in use, store without the cap on.
About the artist
Jean Spencer (1942 – 1998) was a British artist known for her abstract paintings and relief sculptures. She studied teacher training at Bath Academy of Art, and started to make Constructivist style work. Co-founding the Systems Group with her husband and fellow-artist Malcolm Hughes, systematic and mathematical processes were core to her work for many years, as well as her research into the properties and relations of colour. Her last series of works, six colour blocked panels, is part of Tate's collection.