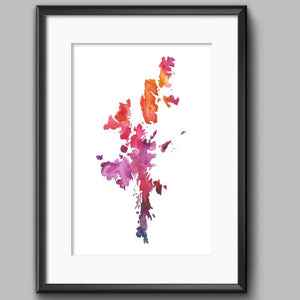 All prints are finished in a iced white textured mount, however a frame is not included.
Size Options
A5 prints (mount size 10 x 12 in)
Each island map design is carefully hand-painted in watercolour using a rainbow colour gradient. The artwork is then scanned in to the computer to be prepared for print.
These prints are perfect for any who loves their home, misses their home or has a particular attachment to the island/place. They are also lovely items for anyone who has enjoyed visiting the island.