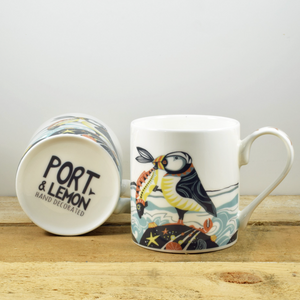 This fine bone china mug is hand decorated in Port & Lemon's studio.
This design is called Proud as a Puffin and it features a handsome puffin standing on a rock with a fish in it's beak and rolling waves in the background.
The colours area  subtle mix of duck egg, burnt orange, lemon and charcoal.
There is also 3 orange starfish on the top of the handle.
The design has been digitally printed and applied by hand in their studio before being fired at a high temperature in a kiln for durability
Dishwasher safe.