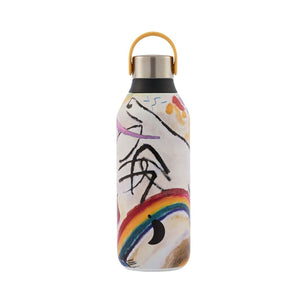 Wassily Kandinsky's enduringly popular abstract painting 
Cossacks
, 1910-11 is detailed on this reusable, leak-proof water bottle from Chilly's and Tate. Holding 500ml of liquid, it's one of Chilly's Series 2 bottles, with a soft-touch, anti-microbial drinking collar, non-slip rubber base, and a matching yellow silicone carry loop on the lid.
The water bottle keeps your drinks cold for 24 hours, or hot for 12 hours. It's part of our range created with reusable bottle specialists Chilly's, which combines details from Tate collection artworks with Chilly's practical, eco-conscious designs.
The bottle's double-walled vacuum design means that whilst the contents will keep either cold or hot, the outside will remain at room temperature.
For best results, clean the bottle after use with hot soapy water, but don't leave to soak. For a very thorough clean, we'd recommend bicarbonate soda with water. When not in use, store without the cap on.
About the artist
Wassily Kandinsky (1866 – 1944) was a Russian born painter, teacher and theorist. He was a pioneer of abstract art; believing that abstract art was capable of expressing a higher spiritual and emotional reality. Born in Moscow, he studied economics and law at university before moving to Munich to study art. In 1908 he began to develop a style which used rich contrasts of colour and abstract shapes. This style then developed to include precise geometrical forms. After the closure of the Bauhaus by the Nazis in 1933, where he taught, Kandinsky spent his last years in Paris.