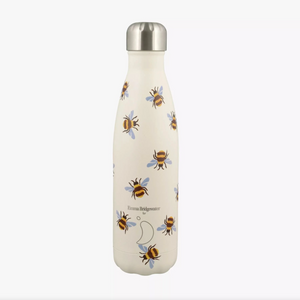 Chilly's Emma Bridgewater Bumblebee Blue Wing 500ml Bottle
This charming Emma Bridgewater drink bottle from Chilly's Bottles is adorned with Emma's ever popular bumblebee motif to provide you with the perfect way to carry a touch of spring with you all year round. Made from high-grade 304 stainless steel which helps to maintain both the flavour and freshness of your drink without any tainting, this delightful drinks bottle can be used for both hot and cold drinks alike.
Features:
Double Wall Vacuum Insulation
High Grade 304 Stainless Steel
BPA Free
Screw- Close Lid
Airtight & Leak Proof Seal
Condensation Free
Keeps Drinks Ice Cold for 24 Hours
Keeps Drinks Hot for 12 Hours
Capacity: 500ml
Since 2010, Chilly's Bottles has been on a mission to provide you with the ability to always have cold water while on-the-go, without you having to buy single-use plastic water bottles. Each bottle is imbued with the same high performance technology and eco-friendly benefits of a traditional flask, making them an essential companion for your daily adventures.