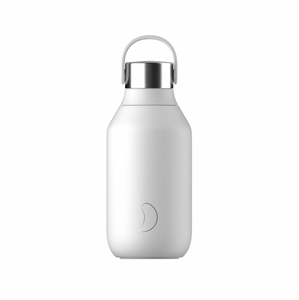 Arctic White Stainless Steel 350ml Bottle
Series 2 - new improved design 
Loop lid
100% leak-proof 
Keeping your cold drinks cold for 24 hours and your hot drinks hot for 12 hours
Cleaning: It's recommended you clean your bottle after each use with hot soapy water - do not leave the bottle to soak.
For a thorough clean use bicarbonate soda with water
Storage: Recommended storing without the cap on
Bottle Dimensions: 7.5cm x 17.5cm tall
Bottle Weight: 251g
This series 2 Arctic White Stainless Steel 350ml Bottle from Chilly's Bottles keeps your drink cool for 24 hours and is the perfect small size for everyday use. Now with a handy loop lid making staying hydrated on the go even easier.