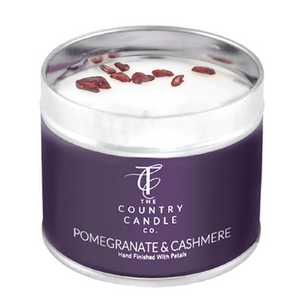 Experience the luxurious sensory fusion crafted by The Country Candle Co with their Pomegranate & Cashmere Tin Candle. This elegant candle presents an exquisite blend of lemon, lime, anise, violet and eucalyptus, leading to a bouquet of rose, jasmine, sweet pea petals, lily, cyclamen, carnation and lilac, balanced with a base of wood and balsamic. An exquisite fragrance worthy of royalty.
Size: 6.2cm x 7.6cm
Burn time: Approx. 30-35 hours
Vegan, GMO free, Palm oil free, does not contain ingredients which are tested on animals.