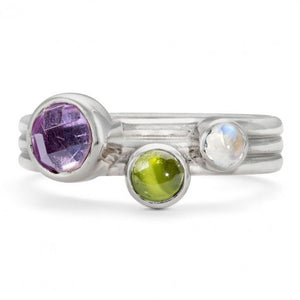 A subtly beautiful beautiful sterling silver ring featuring the gemstones amethyst, peridot and moonstone from the Nebula collection.
The Dewberry solid Nebula ring is a toned down version of the Whimberry gemstone combination and has a beautiful faceted pale amethyst as it's feature stone. Inspired by the dark winter Scottish skies, the Nebula collection reflects the colourful clouds of dust and gas which lie deep between the stars.
The stacking rings are made from solid sterling silver amethyst, peridot and rainbow moonstone. These gemstones are naturally occurring, and therefore each one is unique and colours may vary slightly from stone to stone.
The Nebula rings are 0.45cm wide.
*Jewellery dispatch times vary depending on the item and can take up to a week to arrive. We'll contact you if the item is made to order.*