How it's made
All our knitwear is made by us in our design studio here in Shetland.
We use the finest Lambswool to create soft and luxurious products. All our items are made to the highest standards and hand finished using age old techniques, passed down through generations, in a broad selection of colourful combinations. Each piece is individually made by us here at Ninian.
Why not come and visit us to see how and where it's made, feast your eyes on the array of colour and textures around you in our knitwear studio, and meet the team.
We love to chat and enjoy having visitors. 
Knitwear Studio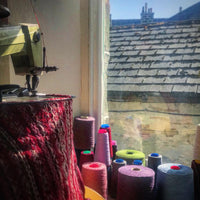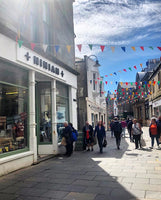 The Ninian Shop
Our shop in Shetland's main town, Lerwick, was established in 2003. Lerwick is a beautiful old town, famous for its picturesque lanes and of course where the award winning series "Shetland" was filmed.
Our knitwear studio is located at the back of our shop, with a view of the harbour. We stock loads of locally made items as well as carefully selected British made gifts to compliment our designs.
Come and visit us to see the vast array of items we stock - there's so much more than we have online. 
We're open Monday to Saturday, 9am - 5.30pm and occasional Sundays throughout the summer season.
Our Shop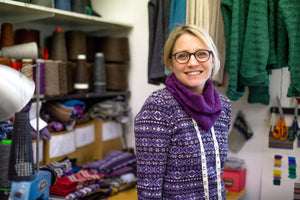 About Us
We make all our knitwear in our studio at Ninian. Each piece is made from the softest Scottish Lambswool and is hand finished by us. Click this link to find out more about how it's made and to meet our team.
About Us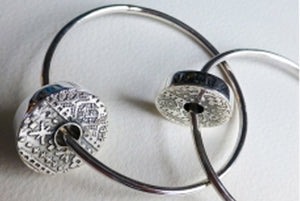 Our Gifts
We like to source beautifully designed items which we think fit with our shop. Many are made by artisans like us in Shetland or throughout the UK. Remember to check out our made in Shetland Section too.
Shop Gifts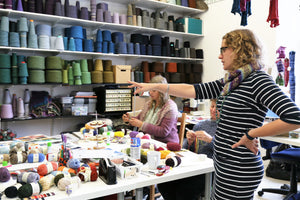 Our Workshops
Joanna offers workshops throughout the year in colour and design. Courses can be tailored to your needs and timings. We can also offer group classes from 4 - 10 students. 
Workshops with Us
The Modern Shetland Knitter
My order of Funky Fair Isle scarf in burnt charcoal has just arrived.. bought it to go with the headband I bought a few weeks ago from you .. it's just beautiful! Can't wait until it gets a bit cooler to wear them !!
Very Happy customer
Beautifully made Knitwear with lovely friendly service, a great shop to visit while in Shetland
My order of a beautiful headband arrived today ... thank you so much it's just beautiful... shall be placing another order soon.
Such a lovely friendly shop, the staff are always smiling and willing to help.
I love when my Ninian package arrives, the knitwear is delightful and prompt service too.
Joanna is so welcoming at Ninian, we visit every time we're in Shetland and shop online too. Super gifts and gorgeous knitwear.